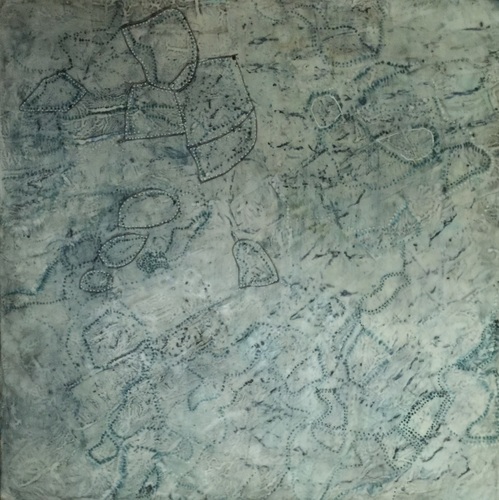 An Unquiet Mind, 2016. 24" x 24", Encaustic, Oil, Graphite on Birch Panel.

Juried and Curated Shows
2018
An Unquiet Mind, A Face in the Crowd, and Unfamiliar Terrain, "A Moment in Time" group exhibition, Santa Clarita City Hall, Santa Clarita, CA
2017
Dig 2 and Dig 5, "In Flawed Abundance" exhibition, juried by Miles Conrad, New Art Center, Newton, MA
An Unquiet Mind and A Face in the Crowd, "A Sense of Place" exhibition, juried by Patricia Miranda, Castle Hill Gallery, Truro, MA
2016
Sunspots, Fire on Ice and Homage to Captain Planet-Fire! California Art League Small Works Show, "Fire and Ice", Blinn House, Pasadena, CA
After Babel #2, Arts in Harmony 2016 International Show and Traveling Show, Elk River, MN and Blaine, MN
Family Tree #2, CFD Old West Museum 2016 Western Spirit Show and Sale, Cheyenne, WY
Naissance #3, Making Your Mark IEA-EAI members' exhibition, Juror David Limrite, Encaustic Arts Institute, Santa Fe, NM
2015
Zeus, 20th Annual Arts in Harmony 2015 International Show, Elk River, MN
Cave Painting and Kelp, CFD Old West Museum 2015 Western Spirit Show and Sale, Cheyenne, WY
Daydream (diptych) and Astral Projections, National Encaustic Competition, Buenaventura Gallery, Ventura, CA
2014
Moonlight Madness, Take 2 (Shall We Dance?)— JUST RIGHT, Medium Images, Harbor Village Gallery, Ventura, CA
Splash, 19th Annual Arts in Harmony 2014 International Show, Elk River, MN
Amber and The Breath of God CFD Old West Museum: 2014 Western Spirit Art Show and Sale, Cheyenne, WY
Sasquatch, Aladdin's Folly #1,Aladdin's Folly #2, Galaxy and Global Warming, "Playing With Fire" Group Show, Santa Barbara Tennis Club Gallery
Eve, Wax Effects show, Juror Eileen Goldenberg, Art Central Gallery, San Luis Obispo, CA
X Marks the Spot, Devil in the Straight Line show, Juror Henning Haupt, Bakehouse Arts Complex, Miami, FL
Sunspots, Les Bicyclettes I and II Group Show, Santa Barbara Tennis Club Gallery
Leaf 2 and Galaxy, The Art in Wax Show, Gallery 901, Santa Fe, NM
2013
Peacock #1 & Jellyfish—New Beginnings, Santa Clarita Artists' Association Gallery, Santa Clarita, CA
Mindscape & Dream Sequence—Four Seasons, Santa Clarita Artists' Association Gallery, Santa Clarita, CA
Global Warming, All Things Considered, Las Laguna Gallery, Laguna Beach, CA
Leaf and Leaf 2, Small Works-BIG TALENT, Las Laguna Gallery, Laguna Beach, CA
X Marks the Spot, Art of the No, Diablo Valley College Gallery, Concord, CA
Homage to Captain Planet series, Earth! Fire! Water! & Heart!—Inspirations, Santa Clarita Artists' Association Gallery, Santa Clarita, CA
Hummingbird, Caring with Colors Art Show, Wichita, KS (Top 10 Featured Artists)
Jellyfish, Buenaventura Gallery, Ventura, CA
Group Shows

2017
Chaffee Community Museum of Art, Ontario, CA
LAX-WAX Art (Southern CA Chapter of International Encaustic Artists)
2016
Ventura County Government Center, Ventura, CA
LAX-WAX Art (Southern CA Chapter of International Encaustic Artists)
2015
Thousand Oaks Art Gallery, Newbury Park, CA
Chaffee Community Museum of Art, Ontario, CA
2014
WAV Gallery, Ventura, CA "Amber" "Sistine Sky I and II"
SCA Project Gallery, Pomona, CA "Eve" "Abacus I and II"
Thousand Oaks Art Gallery, Newbury Park, CA "Chemistry of Perspectives: Reaction to Art Under Fire" show
Professional Experience
Present
Attorney—Member of the California Bar since 1981. I practiced personal injury and business litigation for eleven years, in California, Washington DC, and Virginia. I maintain an active bar membership in California and lend my experience to various nonprofit organizations.
International Encaustic Artists-
http://www.international-encaustic-artists.org/
President, Board of Directors
The ARTree Community Arts Center-
http://theartree.org/
Treasurer, Board of Directors
In addition to duties as Treasurer, I teach classes and workshops to children and teens as needed.
2000-2009
The Balanced Mind Foundation (Formerly the Child and Adolescent Bipolar Foundation)
www.thebalancedmind.org
I wrote and edited website material on legal issues, led a volunteer Legal Team, trained parents in advocacy skills and conducted advocacy weeks in Washington, DC, served as Director of Public Policy, and served on the Board of Directors.

1998-2005
Welsh Choir of Southern California
I performed and traveled internationally with this Welsh-language concert choir and created the choir's first website.
Education
JD, 1981, Boalt Hall School of Law, University of California at Berkeley.
BA, Art,
cum laude
, 1977, Seattle Pacific University

Memberships
International Encaustic Artists
Santa Clarita Artists' Association
Buenaventura Artists' Association
California Art League